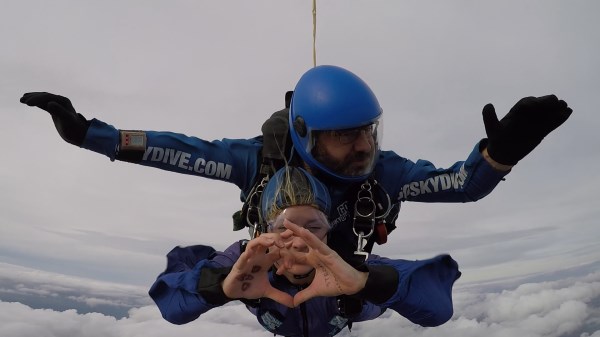 Last weekend I got to fly, and it wasn't by flying in an airplane. It was by jumping out of one from 15,000 feet. Yes! I did skydiving. I did it for the charity close to my heart, and in memory of my dad.
My family and I have been left devastated by my dad's sudden death from stroke at the age of only 62. I did the skydive on what would have been my dad's 6th anniversary. By doing this skydive not only I, but also my family, you my lovely friends and colleagues who've donated to my JustGiving page have helped raise funds for this amazing charity. A big Thank You! We did this TOGETHER!!
I had also set myself a new challenge to conquer my fears of flying and heights that have been part of my life ever since I was a little girl, all while supporting this amazing cause!
We all have to deal with deep sorrow at some stage in our lives, and at some point people we love dearly will die, but I have never thought I would lose my healthy dad in my early 30s, and most importantly when I needed him the most, during most difficult time of my life – going through a divorce. Everyone mourns the death of someone they have loved and adored in different ways. There's no timetable for grief, and no "one size fits all" way to get through the whole soul-crushing experience. Even today, six years later, grief is still very much holding me tight….Those we loved are ripped from our arms and our hearts and it feels like the end of the world. Those feelings don't really ever go away – we just somehow learn to live with them. We just need to somehow try to make the grieving process more bearable. For me, passion for helping others in same / similar situations is a way of helping my own grief feels less painful.
So this amazing skydiving experience….
MY SKYDIVING DIARY
(long story)
As I arrived at GoSkydive reception on that morning of 15 September, I looked at the sky. It was clear, blue, warm and sunny with little breeze. It was a perfect day for skydiving. I thanked God and my Dad for the beautiful day and prayed that the weather should not change before my jump.
Before your turn comes for skydiving, you have endless time of the world to think about anything you want, your family, or even work-related or you want to give a thought on yourself or you can even think about the song that you want to put in your skydiving video to divert your mind from freaking out. I was relaxing in the sunshine with my Michael and going through endless photos as it would be the last day of my life.
At the induction training, you're advised to eat and drink water and sugary drinks as skydiving is tough on the body and mind. I couldn't eat. I did drink plenty though. We were also told that those who were jumping from the highest altitude of 15,000 feet would most likely be in a group with others who were jumping from 10,000 feet, so as we reached the lower altitude they'd kick them out first, then continue to our jumping height.
No matter whatever the time of your skydive slot is given, you have to wait for at least minimum 3-4 hours. You will see number of people climbing the airplane and landing with parachute. Videographers and photographers would be clicking their endless pictures and family and friends would be waiting on the ground. You'll get fascinated in 2-3 take-offs and parachute landings but later you'll give up and desperately waiting for your turn.
As my name was called up for the final training and 'kitting up' (as they call it) in the jump suit, I overheard a girl who was sitting next to us, asking what was that she could see up in the sky. There was me thinking, you crazy girl of course it was parachute. But then the girl who did our induction announced on the loud speaker that one of their colleagues (up in the air) had to deploy a reserve parachute as he felt the main one did not deploy ok. To say I was absolutely mortified and at that stage most definitely considered pulling out, would be an understatement. This is someone – me – totally scared of flying, let alone jumping out of the plane.
As soon as I heard my name been called up, I was waiting for my instructor – Pete came over in few minutes and introduced himself. My jump suit was little loose but then he fixed the harness and it was looking fine. He also fixed diving goggles on the side of my head. My photographer Brad asked several questions whether I was nervous or was it my first jump etc. He instructed me to look up while skydiving and smile in front of camera, look for his sign when he'll give me to hold his hand and I have to let him go as per his sign. I was becoming very nervous and anxious. I was feeling very excited too, as if I was going to war front to save my country.
My instructor Pete gave me 5 minutes 'refresh' training – cross arms, head back, knees bent, jump. One tap on the shoulder to open your arms. Second to bring arms to chest as the parachute opens. Knees bent for landing. Questions?
I asked him only one, ok two, question(s) – "What happens if parachute doesn't open?" He smiled and replied, "I have done more than 4000 jumps. If main parachute doesn't open, we deploy reserve one." Born inquisitive, I then asked "What happens if the reserve parachute fails?" Pete calmly replied, "Then we're f***ed." Ok, I had full faith in my instructor as if nothing would happen to me. And I was in safe hands.
Within 15 minutes, and by now it was close to 5pm already and with few clouds building up but still warm, Pete took me to the airplane boarding area and I was about to climb. By that time, I knew that it was the time of no turning back and not freaking out as now universe also conspires me to jump! We're in. The door closes. We're off. Squashed into two benches that face one another. In my group, there were 5 of us jumpers with instructors, and three cameramen. Thankfully we were all jumping from 15,000 feet and didn't have to go through the 'pain' of watching someone been kicked out before us at 10,000 feet. I was the last to get on that plane, so logically thinking I would be the first out of that plane. And yes I was. First to jump out, last one to land. Still don't understand how and why, but it doesn't really matter. Maybe I just enjoyed it so much, parachute decided to take it easy and slow, and not rush with the landing?
Time to take the leap. Sixty Seconds Freefall.
Then they open the plane door. This is very loud.
As we reach our jumping altitude of 15,000 feet you feel the plane slowing down, red light by the door turned green, and Pete nudged me towards the open door. Sitting on the edge of the door and looking out at the vast openness below. The anxiety, and tension in my head I felt, I was so very scared, I actually thought I would suffer the stroke myself. I then looked out upon that beautiful 'tiny' Earth and was surprised to feel complete peace within myself. In that moment, I owned the world! I could feel the cool air on my face with the speed of approx. 125mph as if it was welcoming me.
This is no exaggeration when I say that it feels like time freezes, you fly almost in slow motion out of the door, and the overload on your senses that you experience is indescribable.
When you get to the edge, you are filled with adrenaline like nothing you've experienced before. You feel euphoric.
Brad, my cameraman hangs in the doorway like a Spider-Man and I know that this is the moment we've been waiting for – the 60 second freefall. Within few seconds of Brad's leap, we also jumped so he could capture us. I had to hold his hand but the air was very powerful and I wasn't able to grab hold of him.
It feels very intense and the force of the wind pushing up at you is very strong. You can't hear anything, as it's literally so loud, and yet at the same time, utterly peaceful and serene.
Nothing could have prepared me for this. Not skiing, not diving, nothing. I don't feel as though I'm falling, I'm spinning upwards and backwards in a jet of cold air that whips away my voice, deafens my ears and spins my brain into overdrive. Those fields on Earth twist around. The Earth and coast move way too fast and something slowly registers that I don't seem to be breathing. Natural survival kicks in: you need to try harder. Breathe through your nose, breathe harder, harder again, really use your lungs.
I've adjusted to this strange new reality and I stretch out my arms, feeling the sky run through my fingers. I'm struggling to open them into heart-shape for my Dad and for everyone who's been affected by stroke. I'm seeing the world in a whole new way when my throat chokes, my shoulders snap back and those thigh harnesses remind me that they're there. The tumble dryer effect continues for another few seconds and then it stops. We're still. Floating, dreamlike in the quiet, quiet air. Pete deployed the parachute, and we've dramatically slowed down. Sometimes the force at which you slow down can make you feel dizzy or even wind you a bit. I felt both. You freefall for approx. 10,000 feet. What amazed me was the speed we dropped to 5,000 feet when the parachute opened – it took only about a minute. The scariest minute of my life.
I hear Pete's voice in my ear as he loosens my goggles, unfastens the harness (just very slightly on my instructions DO NOT LET GO!) and asks if I'm alright. Now your parachute is open and you float to the ground. At this stage I truly enjoyed the view – world famous Stonehenge literally underneath us, Salisbury cathedral in the distance and beautiful view of Portsmouth harbour. There is such an amazing view from that high up!
Skydiving feels incredible! It was exhilarating. Pete asked me if I wanted some spins on parachute, I said hell yeah! Then he spun our parachute 3-4 times to left and right and it was such fun. The parachute ride down took around 7 minutes and the landing was incredibly soft. On my bum. You must bring your feet up and knees to your chest and slide into the landing. You'll come into the landing, and the chute will level out and you'll slide forwards into some grass.
Now what follows this is a state of disbelief and shock. You won't know what's just happened until you sit down and it really sinks in. Even being sick as we landed didn't spoil this amazing experience.
Wow, this experience was nothing like I had imagined. It was the best moment of my life which I can't really express in words!
All I can say that I felt freedom, skydiving is intoxicating, it's enough to mess with your mind! I've harnessed my fears, and achieved what I thought would be impossible.
Mission Impossible accomplished!
As my instructor Pete said to me: FEAR WILL BE TEMPORARY, BUT THE ACCOMPLISHMENT WILL LAST FOREVER. So very true!
Enjoy looking at my many photos and videos. My face says a lot!